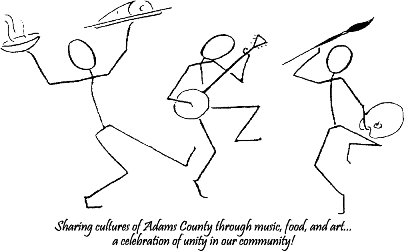 The Adams County Heritage Festival celebrates the many ethnic and cultural traditions of our county through sharing foods, arts and crafts, and music. The Festival is jointly sponsored by the Interfaith Center for Peace and Justice and the YWCA Gettysburg & Adams County, and in recent years around 1200 people have attended it.
The 32nd annual Adams County Heritage Festival
will take place on
Sunday, September 17, 12 noon to 4 p.m.
at the Gettysburg Area Recreation Park.
Mainstage performers will be:
12:15 p.m. Ladies in the Parlor (American roots)
1:10 p.m. Simple Gifts (Eastern European music)
2:10 p.m. Cam Sounds and Vibrations (African American jazz)
3:10 p.m. Los Monstros (Latin fusion)
The Festival is seeking
food vendors, craft vendors, craft demonstrators and displays, and non-profit exhibitors. Please click on the links to complete an application.