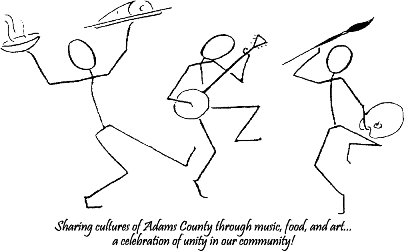 The 27th Annual Adams County Heritage Festival will be held at the Gettysburg Area Recreation Park on Sunday, September 16, 2018 from 12 noon to 4 PM in the Gettysburg Area Recreation Park (545 Long Lange, Gettysburg). It is a partnership between ICPJ and the YWCA Gettysburg and Adams County.
The schedule of performers is:
12 noon
Bagpiper Rodney Yeaple, Opening Invocation (Rev. Mark Oldenburg), Proclamations by County Commissioners and Gettysburg Mayor Ted Streeter
12:15
Rovin' Bog Hoppers (Irish)
1:10
Shree Academy of Dance (Indian)
2:10
Rebolu (Afro-Colombian)
3:10
Klinger McFry (zydeco and roots music).
The Festival will include "Heritage Festival in Motion/Festival de la Herencia in Motion," a family bicycle parade, leaving from the main stage at 1 p.m., and following the Biser Trail.  Participants should assemble on the basketball court behind the stage around 12:30.
Bakewell Farm, a local nonprofit, will offer a special program, titled "Bread for Each Other," in the Sterner Building (the main park building). It will comprise an afternoon of "action stations" and table talk discussions about the craft of bread making, good nutrition, and how the act of baking bread can become a form of social action.
The Festival will feature food vendors representing many traditions, including Colombian, Mexican, Jewish/Israeli, South Asian, Chinese, and Filipino.
There will be an array of craft vendors and demonstrators of traditional crafts.  A special feature this year will be display tables representing the cultures of various countries, including Albania, Cambodia, Iran, Japan, Pakistan, Tanzania, and Turkey.
A Children's Area will feature a variety of craft activities with the theme "Look Beyond your Horizon," represented by giraffes and unicorns. 
Local nonprofits will have booths providing information about their services.  Some of these booths will have activities for adults and children.  
Admission and parking are free.