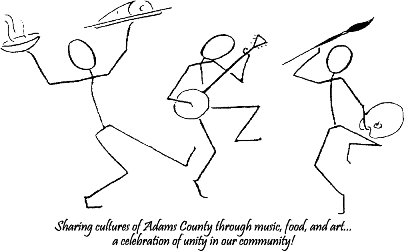 The 26th Annual Adams County Heritage Festival will be held at the Gettysburg Area Recreation Park on Sunday, September 17, 2017 from 12 noon until 5 pm.
As the Adams County Heritage Festival enters its twenty-sixth year, the Interfaith Center for Peace and Justice has entered into a partnership with the YWCA Gettysburg & Adams County to organize the festival and secure its continuation. ICPJ, which founded the festival in 1992, will continue to oversee fundraising and finances for the event as well as maintain its website, http://icpj-gettysburg.org/festival-2/, while the YWCA will be responsible for many organizational and logistical details. A committee composed of members of both organizations and chaired by Kara Ferraro of the YWCA will plan the festival.
The committee is actively organizing this year's festival. We have already lined up a program of mainstage performers, currently scheduled as follows:
    12:15 p.m.    Across the Pond (Celtic)
    1:10        Washington Toho Koto Society (Japanese)
    2:10        Vox Cubana with Ernesto "Gato" Gatell (Afro-Cuban)
    3:10        Barynya (Russian dancers)
    4:10        Dixieland Express (jazz).
Annie Byrne will once again take charge of our extensive array of children's activities.
Application forms for food vendors and craft vendors and demonstrators, as well as for non-profit exhibitors, will be available soon.
We still need help with coordinating food vendors, craft vendors and demonstrators, and volunteers.  If you are willing to help us in one of these areas,  please contact Kara at the YWCA, 717-334-9171, extension 113, or kferraro@ywcagettysburg.org.  Likewise, please contact Kara  if you are a craft vendor or demonstrator or a food vendor who was not at last year's festival, and you wish to receive an application form for this year.