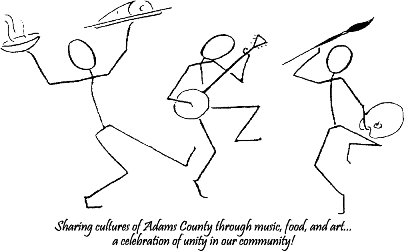 The Twenty-Seventh Annual Adams County Heritage Festival
will be held on
Sunday, September 15, 2019
from
NOON to 4 PM
in the
Gettysburg Area Recreation Park
(alternate location in case of inclement weather: YWCA Gettysburg & Adams County.)
The Festival is a long-standing community tradition, an afternoon in which we celebrate the many ethnic and cultural traditions of our county through sharing foods, arts and crafts, music, and drama. Admission is free.  For the third year, it is jointly sponsored by the Interfaith Center for Peace and Justice and the YWCA Gettysburg & Adams County.
Main stage performers will include:
12:15 PM: Rovin' Bog Hoppers (Irish)
1:10 PM: Shree Academy of Dance (Indian)
2:10 PM: Rebolu (Afro-Colombian)
3:10 PM: Klinger McFry (zydeco and roots music)
There will also be a broad range of children's activities, demonstrations of traditional crafts, and displays of cultural artifacts.  There will be vendors of food and crafts representing a variety of cultural traditions, as well as booths for non-profit exhibitors.
Below, please find application forms for food vendors, craft vendors, and non-profit exhibitors, as well as a form for advertisements in the festival program.
For more information, please contact achf@icpj-gettysburg.org.