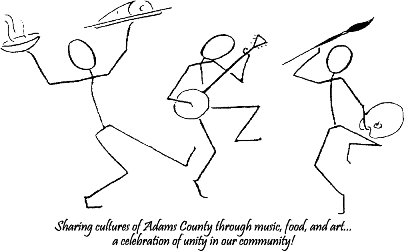 Save the Date: September 19, 2021, for the Adams County Heritage Festival. 
Planning is underway for the 30th Annual Heritage Festival. The event is being planned as an in person event. For the past 29 years, hundreds of performers, crafters, food vendors, non-profit organizations and interested citizens gather on the third Sunday of September for celebration and education. From noon to 5 p.m. on September 19, 2021, the Gettysburg Rec Park will be bustling with activities and information that focus on the rich heritage and diversity within Adams County and beyond. This free event (except for food) is an excellent opportunity to enjoy a relaxing afternoon outdoors while learning more about your county and your neighbors. In 2020, a virtual event featured stories of their ethnic origins from Adams County citizens and an art display in downtown Gettysburg. (YWCA Gettysburg & Adams County partners with ICPJ on this event.)
Below, please find the forms for anyone who may be interested in participating in the 30th Adams County Heritage Festival as a food vendor, craft of other vendor, demonstrator, nonprofit exhibitor – of if you are interested in placing an ad in the program.
The 2021 Heritage Festival Schedule
12:00 noon
Bagpiper Rodney Yeaple, Opening Invocation, Civic Proclamations
12:15 p.m
1:10 p.m
2:10 p.m
Penn Lions (Chinese Lion Dancers)
3:10 p.m
N-A-Chord (African American Singers and Band)